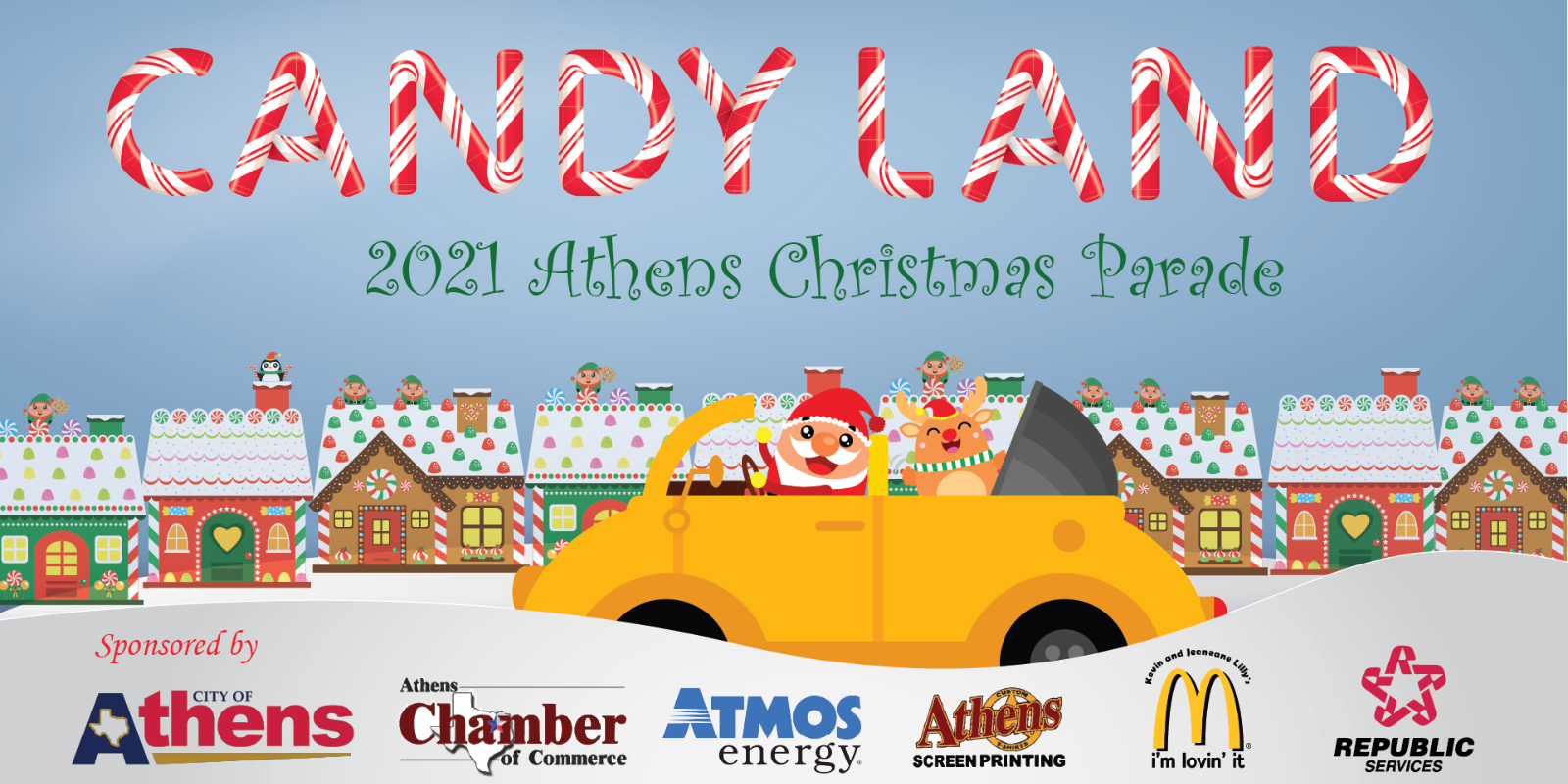 Time This event has already ended!
Date: Dec 4, 2021
Time: 6:30 pm - 7:30 pm
Time to sign up for the 2021 Athens Christmas Parade, which is scheduled for 6:30 p.m. Saturday, December 4th.

There is no entry fee for floats this year and parade packets are now available at City Hall, Development Services Center, Chamber of Commerce, City of Athens and Visit Athens Facebook Event Page, the City's website at www.athenstx.gov, and www.visitathenstexas.com.

The 2021 Christmas parade is organized by the City of Athens and parade partner, the Athens Chamber of Commerce. Sponsors include Athens Screen Printing, Atmos Energy, Kevin and Jeaneane Lilly's McDonalds, and Republic Services. The theme of the 2021 Athens Christmas Parade is "Candy Land."
The Chamber of Commerce and the City of Athens reached out to the community for theme suggestions. The suggestions came pouring in and were narrowed down to the top three themes. Then, a survey was posted for community to vote, and it was a close race, but Candy Land came out on top.
"The Athens Chamber is elated to be part of this fantastical, annual event that is sure to make the holidays that much sweeter for everyone in our community!" said Kristin Willingham, Executive Director of the Athens Chamber of Commerce. "We love the theme Candyland, chosen by the community, and can't wait to see everyone's spin on their delectable expressions!"
Entries will be judged on creativity, incorporation of the theme, and overall appearance. Prizes will be awarded to first place ($1,000), second place ($700), and third place ($300). All prize money is generously donated by our 2021 sponsors.
The parade is limited to the first 100 entries. School-related marching bands and drill teams will also need to register. The registration deadline for all participants is Wednesday, Dec. 1, 2020 or until limit is reached.
"We are excited about an evening of whimsy, fun, and imagination," said Katie Birk, Tourism and Cultural Resources Coordinator. "Don't forget a candy bag, there is a lot of sweet, take-home treats in Candy Land!"

For additional information about the Christmas Parade, please contact Tourism and Cultural Resources Department at either 903-675-8039, visit www.athenstx.gov, or e-mail kbirk@athenstx.gov.